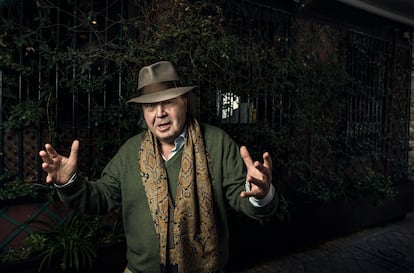 This man is a volcano full of stories. Before this interview, in a restaurant in Madrid, he told some about his family, about love, about himself and about life around him. Later it was less private. He is Xavier Güell (Barcelona, ​​65 years old), who at 17 was already an orchestra conductor and music producer and who now writes novels based on the lives of great musicians. His tetralogy War quartet (Gutenberg Galaxy) starts now with If you can't, I'll breathe for you his version of the intimate adventures of Béla Bartók, and will continue with the adventures of Strauss, Shostakovich and Schönberg.
Question. What is a conductor?
Answer. The one that is capable of combining elements to be able to make a totality. Music is to transcend that empirical reality and bring it to a spiritual reality, and that goes from measure to measure, which means that measure four is a consequence of the first three.
Music will resist despite the pandemic and all the disasters of humanity
P. What good is the metaphor of music today?
R. The music will persist despite the pandemic and all the disasters that have occurred throughout humanity. Beethoven and Mozart will continue to be substantial references for human beings. It is not that they wanted to transcend, it is that they had a bug inside them and they had the need to remove it.
P. Could this time be explained in musical terms?
R. It is a time of doubt, of fear of the future, of hopelessness, of suffering, like so many others. Music helps human beings to ask themselves what we live for, why good is better than evil, why we have to live nature differently if we want our children to inherit this planet. Unlike the word, music says nothing, but suggests everything. That is why the writers who have had that musical rhythm, write better than the others.
P. Has music saved you?
R. I've been making music for as long as I can remember. I can't imagine a life without music, and yes, it has helped me overcome difficulties… Mahler, above all. Beethoven has made me understand life, the music of the 20th century is of extraordinary richness, although little known since the end of the Second World War. It was what worried me the most to do in my time as a music producer.
Beethoven has made me understand life, the music of the 20th century is of extraordinary richness, although little known since the end of the Second World War
P. How it started?
R. I come from a very liberal family; my father knew about the difficulties of being a professional musician, so he made me study law, but then he supported my decision to become a conductor. And it was my great-uncle Eusebio López Sert, a pianist, who set me on track to overcome the reluctance of that bourgeoisie to dedicate itself to professional music. My great-uncle had a complicated emotional life and he struggled to be free, a difficult and sometimes tragic life.
P. Has your last name weighed you down?
R. My family is linked to Gaudí by my grandfather Güell, a very deep friend of the architect. Together they wanted to transform Barcelona, ​​which today cannot be understood without them. They made the Park Güell, the Colonia Güell or the Güell Palace and other works. They worked to make Barcelona a more welcoming city. All the important work is done by Gaudí with Güell. And today I see the consequence of that association undone; Barcelona has gone from being cosmopolitan to becoming provincial, as a consequence of nationalism. The peoples have the right to suicide, to go to hell if they want, but it is not a question of a few who decide to do so. Barcelona was the lighthouse of southern Europe and it has become smaller, more local.
P. At 17 he was one of the youngest directors in the world …
R. I accompanied Montserrat Caballé in Puerto Banús [Marbella, Málaga] in a program by Verdi and Puccini. There was a thick haze at the concert. We didn't even see the musicians. But there I started a very positive relationship with Montserrat and directed it to many parts of the world. My first tailcoat was a disaster. My uncle, who would be the editor of Tusquets Toni López, who was accompanying me, forced me to iron it. There was delay, but I arrived in time for Montserrat to limit the anger that I deserved. Then I worked with Franco Ferrara and with Leonard Bernstein. This was an overwhelming person, who knew that in every genre there was good music and bad music. He had a varied character; It made you feel like you were in heaven, because it encouraged you, but sometimes it was uncompromising and dry, dry. It taught me to look for the essence of music in a freedom without prejudice, to feel that a Beatles song had to be treated as a Schubert work. And I can't forget Sergiu Celibidache. He taught me that the primary goal of music is to achieve human freedom through physical sound.
P. In his book on Béla Bartók he introduces reflections that can also be imagined as his own on the returning populism and xenophobia.
R. Of course. The current moment has the great problem, as it had in the time of Bartók, of nationalism that ended up promoting Nazism in the Europe from which he was exiled. The human being does not learn from his history and falls back into the same mistakes. That is exasperating. We live in a dire world. And at this moment we have to start over.
P. It has been said of you that you are optimistic and feisty. And those adjectives are also attributed to Bartók.
R. In 1940, the warmest moment of his career, Bartók is considered one of the four or five most important and respected composers in Europe. And although he is not Jewish and does not need to go into exile, he abandons everything to undertake a journey into the unknown only to record his radical opposition to the dictatorships of Horthy in Hungary, Mussolini in Italy and Hitler in Germany, so that his For example, since he was very well known, it did serve a purpose. In the United States, doors are being closed to him and he is subjected to living in misery. I love the characters I write about, I take them out of me and highlight their ethical principles, love, doubt, the brutal contradictions that life has, in short, death. And this is the great theme of Bartók, obsessed with composing a concert that makes him famous all over the world and is the inheritance from which his people live. That third concert is his obsession, of which he will leave the last 17 bars unfinished.
P. Does that energy with which you approach it save you also from fainting?
R. Of course. I happen to be an optimistic and a fighter person, but I myself do not consider myself that way. I am a victim of that image that I have created. I wonder why the struggle of creation in a world that is nefarious, where nothing is attended to except for banal reasons, and where what is truly great is enhanced for the sake of frivolity. You are neither what you think you are, nor what you represent. You are in the middle of those two things.