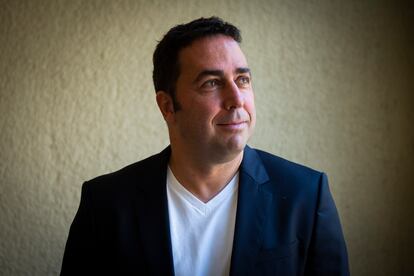 "A concert with thousands of people. Jumping. Dancing. Hugging ". It has been only a year and two months since the pandemic broke out, but the wear, discouragement and uncertainty in the music sector are so high that the phrase sounds like another era. But it will happen in a couple of months. Jordi Herreruela, director of the Cruïlla festival, in Barcelona, and instigator of what happened on March 27 at the Palau Sant Jordi. There, 5,000 people enjoyed a Love of Lesbian concert indoors; with a mask, but without social distance. They had previously done a test, which should be negative for coronavirus. The experience was successful and He went around the world. "Now we are ready to go one step further. The Cruïlla festival will be held on July 8, 9 and 10 in Barcelona with 25,000 people every day and without distance. People will be able to jump, dance and hug each other, as before ".
Cruïlla will not be the only one. Sonorama (Aranda de Duero), Vida and Canet (both Barcelona), and some about to be announced will replicate the model of the Love of Lesbian recital. For their part, the big festivals (those that summon from 30,000 to 60,000 a day: Mad Cool, Primavera Sound, BBK Live …) throw in the towel and summon their audience for 2022. And there is a third exit, that of the more cautious promoters, who opt for the concert cycle concept: festivals distribute their offerings over several days in recitals of one or two groups, with the audience seated, mask and distance.
At the helm of Cruïlla for 11 years, Herreruela, a 48-year-old from Barcelona, ​​showed the daring for which he is appreciated in the sector, and decided to go to work in March 2020, while most festival managers spent months to recover from the knockout of the coronavirus. It carried out an edition that complied with the regulations, even with concerts at the Camp Nou. Key to this was its good connection with the Catalan administrations. There were 200 shows in various locations in Barcelona that attracted 35,000 people. At the same time, he was thinking about the edition of Cruïlla 2021.
"If attendees are tested daily, it seems like a sensible, low-risk experiment. And more if it is outdoors ", says Fernando Rodríguez-Artalejo, Professor of Public Health at the Autonomous University of Madrid
"Months ago it sounded like science fiction," says Herreruela. "But steps have been taken and now it is becoming possible. When I told other promoters some time ago that we were going to summon 25,000 people, they thought I was crazy. Now they ask me for information to see if it can be replicated ".
He is supported by the two experiments (in the Apolo room, last December, before 500 people, and the one in Love of Lesbian) that he has done to date, advised by scientists. Josep Maria Llibre and Boris Revollo are the doctors who are accompanying him. Specialists in infectious diseases, work at the Germans Trias i Pujol University Hospital, in Badalona. "The formula will be the same as Love of Lesbian, but with much more public and open air, an environment through which the virus moves with difficulty. All attendees will have to take a nasal antigen test, where the stick is inserted only a couple of centimeters, which is less invasive than the one we have become accustomed to seeing, the nasopharyngeal smear. It is a test that will soon be marketed in Spain and that costs about four euros in pharmacies ", says Llibre.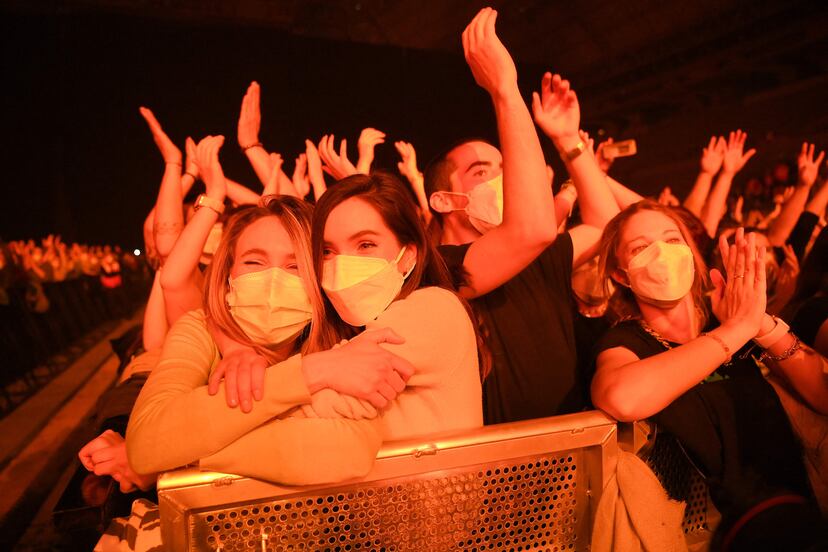 First problem: how to test 25,000 people in a few hours? Dr. Revollo responds: "To test the 5,000 of the Love of Lesbian concert, 80 health workers were hired. It was expensive. And more for 25,000 people. The key is that the tests can be carried out in pharmacies, and that the same pharmacist enters the results in an application, which would be what the concert attendee would present at the entrance. They are effective tests, simple to do and the result is known in 15 minutes ". Second problem: how valid is the test? "It cannot be guaranteed for more than 24 hours," say the doctors. If someone wants to attend the three days of Cruïlla, they will have to take three tests. To the four euros that it costs, something else would have to be added for the procedures of the validated. Those involved calculate that about 12 euros in total each day of the festival. Who pays for them? Herreruela: "Part of the user, part of the festival and another part of the Administration."
Once in the venue, the spectators will be able to move freely, hug, dance, order food and drinks themselves. There will be no camping (it no longer existed in Cruïlla) and everyone with a mask. "If attendees are tested daily, it seems like a sensible, low-risk experiment. And more if it is outdoors. Just one thing: in order not to make it easy for the virus, it would be necessary to reduce contact with people who are not going to the concerts two days before and during the festival, "says Fernando Rodríguez-Artalejo, professor of Public Health at the Autonomous University of Madrid, who goes one step further: "Even if it is outdoors, it seems reasonable to me that they remove the mask. These are people who have tested negative, with what seems like a safe meeting ".
"We are going to do it in the image and likeness of the Love Of Lesbian concert, but outdoors. It will be three days for between 2,500 and 5,000 people each day ", says the director of Sonorama, Javier Asenjo
María del Mar Tomás Carmona, microbiologist and researcher at INIBIC and the Microbiology Service of Hospital A Coruña, recommends: "The use of antigen tests in nasal samples has as its main advantage its lower cost compared to a PCR, but as a great disadvantage its lower capacity to detect infected cases. Therefore, in massive events it is more advisable to use molecular techniques based on a saliva test, where there is increasing scientific evidence for the detection of asymptomatic or presymptomatic patients and, therefore, the detection of possible contagion. It would also be advisable to carry out quarantines prior to the event ". These saliva tests are not very widespread in Spain: Galicia is the community that is using it the most. "It is even offered free to young people in some pharmacies," says Tomás Carmona.
Herreruela assures that he has the commitment of the Catalan Administration for two other massive festivals in addition to Cruïlla: Lifetime (10,000 people each of the three days: July 1, 2 and 3) and Canet Rock (25,000 a single day, July 3). They are appointments that in other editions bring together a national audience that welcomes local groups. This makes it easier to compose a worthy poster and not depend on international stars who have a difficult time traveling while the covid is not controlled.
Cruïlla, for example, advertises Izal, Amaral or León Benavente, and UK bands like Editors or Two Door Cinema Club. "They are British groups that are not on tour. We bring them exclusively to the festival and they only come with the instruments. They do not need, as it would be without a pandemic, trailers that can cause problems at the borders, "says Herreruela. The headliners of Vida are the Madrilenians Vetusta Morla and the Scots Belle & Sebastian. The same profile as the Cruïlla.
The directors of these three festivals point to as a hopeful example the concert that was held on May 3 in Liverpool, with 5,000 people, without distance and without masks: a recital, this one, like the ones before. Everyone present tested negative. The experiment is part of a project of the British Government, which foresees that this summer many more recitals could be developed under these conditions.
The always restless Sonorama is also going to be added. "It will be in the image of the Love of Lesbian concert, but outdoors; three days (August 12, 13 and 14), for between 2,500 and 5,000 people each day. We cannot stand still. There are 1,200 jobs ", points out its director, Javier Asenjo. A private sponsor will finance the daily tests for the spectators, which will not be expensive: about 35/40 euros per day, and 75 the bonus. There will be ten bands per day (they will be announced at the end of May) from 5:00 p.m. to 2:00 a.m. Camping is not contemplated.
Massive festivals, with international stars and crowds of foreign tourists, have to think about the 2022 edition. This has already been confirmed by Primavera Sound and Sónar, which will get out of the way this year with isolated recitals in the fall. The others, Mad Cool, Azkena, BBK Live or FIB, except for surprise, will announce their postponement for another year in the coming weeks. "Right now we are waiting for a definitive response from the institutions to make the decision, but as things are, we are clear that it will have to be postponed to 2022 due to force majeure due to the pandemic," says Javier Arnáiz, director of Mad Cool. Is the future of the festival in danger? "No, but after two years of hiatus, without being able to do concerts, the sector is touched."
What will be imposed this summer will be the concert series. Patricia Gabeiras, director of the Association of Music Festivals (FMA), defines them: "They are concerts by one or two groups. They can be done and all conditions are met. We have a permanent open channel with the administration. What we have told you is that it does not make sense that, because they are called a festival, they have more restrictive conditions than other events ".
One of the imminent with this system It is Tomavistas from Madrid, a festival that without a pandemic gathered 10,000 people. Willy García is one of its three directors: "We will follow sanitary regulations to guarantee safety. There will be 2,000 people, all seated in a large room, with distance and masks. People will be able to get up to the bathroom and to a smoking area. Through an application, the drinks will be ordered and a waiter will serve them at the tables. It is like a giant terrace for 2,000 people, a viable model and one that we like. They are posters with two groups, about three hours of show. Then, each one to his house ", explains García. The goal of all is that live music does not remain silent this summer.