Actress Kirti Kulhari, who has appeared in Bollywood films, has decided to separate from her husband. Kirti has shared this information through social media. Kirti has won the hearts of millions with her brilliant performances in the films 'Pink' and 'Mission Mars'. While his fans seemed disappointed with the news, many accepted his decision and wished him a happy future.
Let me tell you, Kirti has shared her decision to separate from her husband Sahil Sehgal via Instagram. He said that both of them decided to separate from each other by mutual consent. However, he also said that they are not separating on paper. This means that they are not getting divorced but they will no longer be together.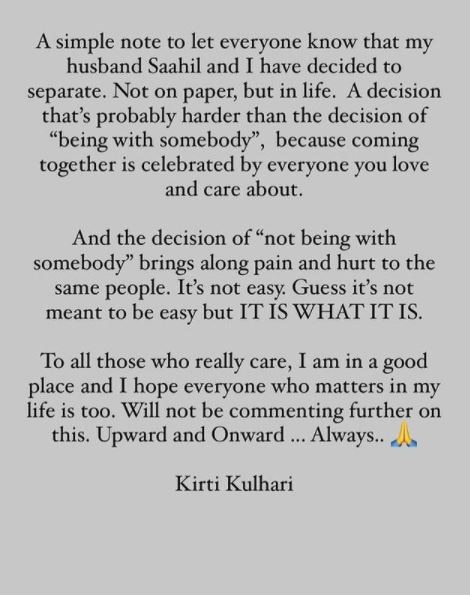 He wrote in his post, this decision is better for both of us. He said, if it is difficult to live together, it is better to be happy. He said, this decision was not easy for him, but now it is done. Kirti further wrote in her post that, I would like to say to those who care about me that I am fine. He declined to comment further on the matter.
Let me tell you, Kirti married actor Sahil Sehgal in the year 2016.
Also read
Tara Sutaria shared a video of her dance from the shooting set, see what's special