Kangana Ranaut's sister Rangoli Chandel has said that she will file a lawsuit against fashion designer Anand Bhushan and Rimjhim Dadu. Because both these designers said a day ago that they are breaking all the profession deals with Kangana. The designers announced it on Twitter on Tuesday, hours after Kangana's account was permanently suspended.
Rangoli Chandel shared a note on her Instagram stories stating, "This person is trying to get fame under the name of Anand Bhushan Kangna, we are not associated with him, we don't know him anyway, many influential Eat. " Tag them and add Kangana's name to your brand, Kangana charges crores for endorsement of any brand. "
Rangoli further wrote, "But editorial shoots are not brand endorsement, nor do we like and choose those clothes. The editors of the magazine select those dresses. This little designer uses the name of India's top actress Karr is promoting himself, so I decided to sue him. "
See Insta Story of Rangoli Chandel here-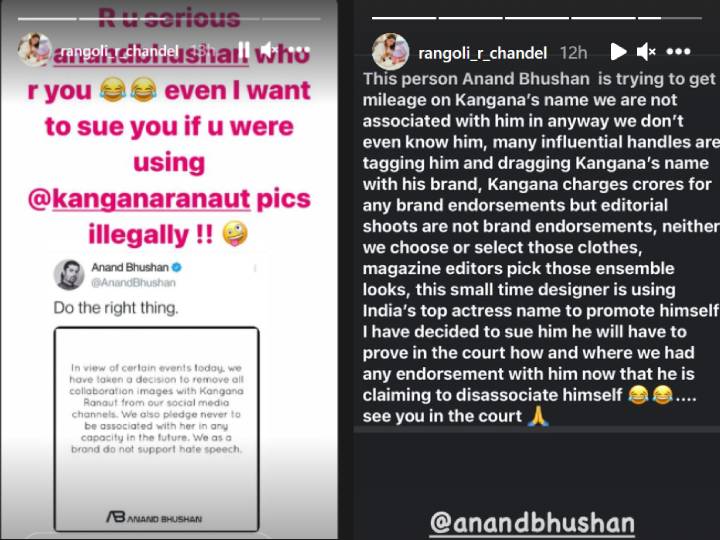 No deal done
Rangoli Chandel further wrote, "She has to prove in court how and where she has any support with us now. Which she is claiming to separate herself from … you will see in court." Rangoli also shared a screenshot of Anand Bhushan's tweet.
Illegal use of Kangana's photo
Sharing it, Rangoli wrote, "Are you making fun of Anand Bhushan? I'll see you in court too because you used Kangana's picture illegally."
Also read-
Kangana Ranaut took a tweet describing Sonu Sood as a fraud, user wrote – Actors are making money from epidemic
Jahnavi Kapoor gives a clarification on the latest cover photo, speaking – it was shot before lockdown