Bollywood star actress Deepika Padukone is very active on social media. She keeps telling her fans about herself through social media. He recently shared a video on his Instagram account. In which he has revealed that he loves singer Justin Bieber's superhit song 'Peaches'.
Deepika Padukone shared her favorite song
In this funny video surfaced on social media, Deepika Padukone can be seen getting ready in her vanity van. During which she is seen answering the questions of her fans. On the other hand, when a fan asked about her favorite song, she answered the question and said that she could not tell it.
Deepika was seen dancing to Justin Bieber's song
She says that she is very excited about her playlist. On the other hand, when he was asked to listen to it, he played his favorite song for the fans. In the video, Deepika Padukone can be seen swinging on Justin Bieber's song 'Peaches'.
Deepika says that this is her favorite song. At the moment, it should be mentioned that earlier, Bollywood actress Alia Bhatt also shared the song 'Peaches' on her Instagram story with Emoji.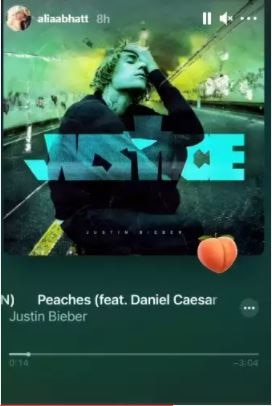 Talking about the work front, actress Deepika Padukone will appear in her upcoming film '83' along with her husband actor Ranveer Singh. Apart from this, she will also appear in films like 'U Baiju Bawra', 'Fighter', i Saanki 'and will Ghan'.
Read also:
Mahesh Bhatt's first marriage was estranged for the same reasons, you know
Shahrukh Khan became 'Love Guru', Fan asked questions, this was the reaction of Bollywood king