Sana Khan is spending quality time in Dubai with her husband Anas Syed. Sana has shared many photos of her vacation on social media as well. From sharing glamorous photos in white outfits to enjoying her date night with her husband – Sana has shared many clicks from her outing. At the same time, for these memories, Sana wrote in the caption, "It was really fun."
Husband Anas had a surprise breakfast for his wife Sana at Burj Khalifa in Dubai. Videos and photos were also shared by the actress on her Instagram account. In these photos, Sana is seen holding a cup of gold-plated coffee, which she was also eyeing. This breakfast was located on the 122nd floor, one of the tallest restaurants in the world. Sana shared the photo and wrote in the caption, 'When your husband gives breakfast in Burj Khalifa. He plated gold coffee. '
Sana Khan is married to a businessman from Surat
Sana Khan made headlines in 2020 when she tied the knot with Surat-based businessman Anas Syed. The actress changed her name to Saeed Sana Khan after marriage. She introduced her husband on 22 November. Sana later shared many photos of her wedding ceremony on Instagram. Sana and Anas went to Kashmir for their honeymoon. Here too, the actresses were giving their fans all the updates about their outing.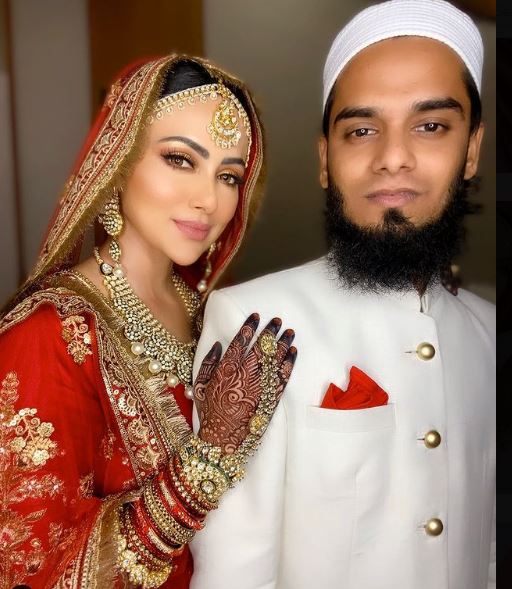 Sana left the acting industry in 2020
Jai Ho actress Sana Khan announced in October 2020 that she was leaving the acting industry forever. She wrote on Instagram, "I am determined to say goodbye to my showbiz lifestyle forever and to serve humanity and obey the orders of my creator. Ultimately, I request all brothers and sisters to ask me for some Don't even talk about showbiz to get in the way. "
Also read
Release date of Akshay Kumar's film 'Suryavanshi' postponed, Chief Minister Uddhav Thackeray praised director Rohit Shetty
The Kapil Sharma Show: When Kangana Ranaut and Massage Queen Sapna came face to face on stage, they laughed a lot.