Mumbai: The Central Board of Film Certification (CBFC) is also known as the Censor Board. If there is a dispute over the content of the film, scenes, dialogues or any incident shown in the film, the producer and director of the film had the option to go to the Film Certification Appellate Tribunal (FCAT) and appeal there. But now this option has been scrapped as a decision. There is resentment in Bollywood over the immediate termination of the existence of the tribunal.
It is to be noted that as per the amendment made by the Central Government, if any producer or director has any objection to the decision of the Censor Board in relation to his film, he will now have to approach the High Court directly of the Tribunal. The Ministry of Law and Justice issued a notification on Tuesday asking the tribunal to abolish it with immediate effect and implement the changes expeditiously.
Significantly, there will be instances in Bollywood when there is a dispute over cutting all kinds of 'objectionable' scenes in a film, removing conflicting dialogues or giving an 'A' certificate to the film. In such cases, many times the tribunal has ruled in favor of the manufacturers by reversing or amending the decision of the censor board. Following the censor board's objection to the film 'Urta Punjab' on the drug problem in Punjab, the matter was also taken to the tribunal from where the film got a big relief. Many other films produced or directed by Anurag Kashyap have also been relieved by the tribunal.
The controversy over the certification and release of Alankrita Srivastava's film Lipstick Under My Burka also reached the FCAT's doorstep. FCAT also resolved the release of the film 'Babumoshai Bandukbaz' starring Nawazuddin Siddiqui and directed by Kushan Nandi.
Questioning the decision to dismiss the tribunal, Hansal Mehta wrote on Twitter, "Does the High Court have enough time to hear complaints related to film certification? How many filmmakers have to take the case to the High Court Is it? Abolition of FCAT? This approach is a one-sided and binding decision. Why is it so unfortunate to take a decision to end it? Why was this decision taken? "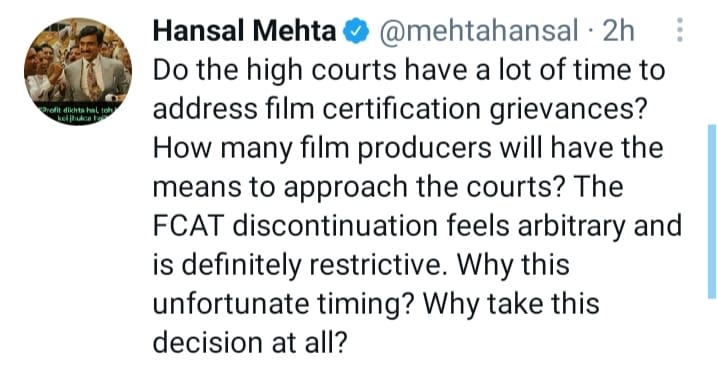 Vishal Bhardwaj also expressed displeasure over the decision and wrote on Twitter, "It is a very sad day for cinema." Noted producer Guneet Monga also wrote on social media, "How do these kinds of events happen after all? Who makes such decisions?"

Actress Richa Chadha may not have written anything against this decision, but in response, she has shared a meme on Vishal Bhardwaj's tweet, which clearly shows how unhappy she is with this decision.
It is noteworthy that a tribunal with constitutional powers was established in 1983 under the Cinematograph Act (1952).
Sonu Sood vaccinated against Corona, public awareness campaign for vaccine from Attic border