Bollywood actress Swara Bhaskar has carved a niche for herself in cinema as well as on the ground. Swara has also seen many movements. Apart from this, she gives her opinion openly on every issue without fear of anyone, whether it is related to the country or from abroad. Now Swara is once again looking angry with the central government and she has expressed her anger through Instagram.
Swara Bhaskar shared a picture on her Insta Story. Prime Minister Narendra Modi is seen in this picture. The Prime Minister stands with folded hands. The caption below the photo reads, 'The temple is being built right there. Do not be ashamed to ask for a hospital bed. Thank you. In a way, Swara Bhaskar's gesture is towards the Modi government at the Center and this is their reaction to the current situation in the country.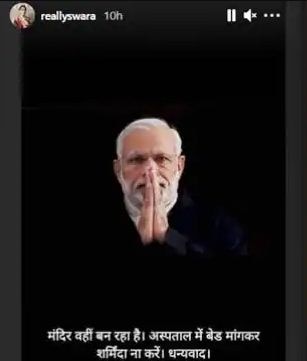 Actress Swara Bhaskar's mother Corona has become infected and has isolated herself at home as well. Swara tweeted, 'He has come to our house. My mother and cook Kovid have become infected, their reports being positive. We are isolated in the house of Delhi. All of you stay at home and use masks. '
Came home Both my mother and our cook have tested positive. 4
We are all isolated at home # Delhi
Double up mask and stay at home people. 4

– Swara Bhaskar (eReallySwara) 19 April 2021
The number of corona patients is continuously increasing throughout the country. About 2 lakh 59 thousand new corona patients have arrived in India and 1761 people have died. There are complaints of people not getting beds in different parts of the country. In view of this, the UP government has imposed a night curfew along with weekend lockdown. In addition, the lockout has been done in Delhi for six days.
Also read-
Hrithik Roshan was seen in Bhojpuri song 'Lollipop Lagelu', the video is going viral
From Shah Rukh Khan to Aishwarya Rai, the superstar was seen serving food at Isha Ambani's wedding, see photos