The younger Nawab of Bollywood aka Saif Ali Khan has recently become a father. Saif is very happy with his wife Kareena Kapoor Khan. Pictures of the two together are often viral on social media. Of course today Saif is living his happy married life, but there was a time when he was upset with his marriage. Here we are talking about his first marriage.
Saif Ali Khan married a 12-year-old girl in 1991, his senior and famous 90s Bollywood actress Amrita Singh. At that time, Saif Ali Khan was 20 years old and Amrita
Age was 32 years. The large age difference between the two made a lot of headlines at that time.
According to media reports, the family of both were also not in favor of this relationship, which is why Saif and Amrita kept their marriage secret for some time. The initial phase of their marriage was very beautiful. They also became the parents of two children (Ibrahim Ali Khan and Sara Ali Khan) but in 2004 they decided to separate and divorce.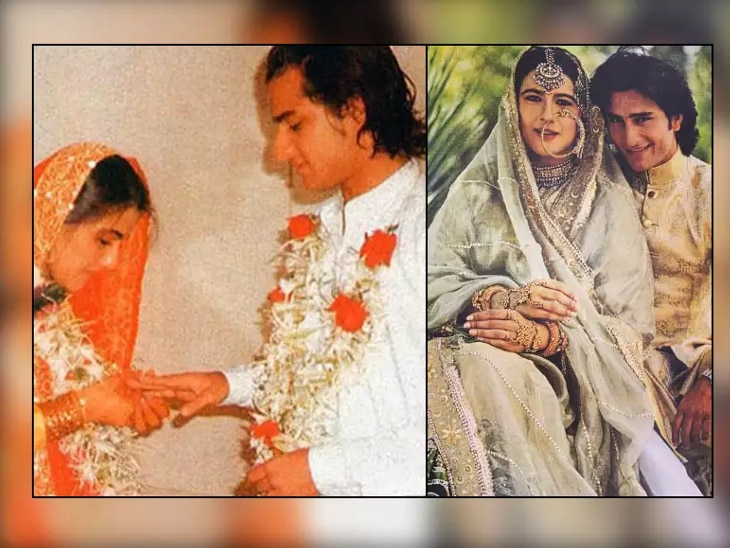 Saif, who has always remained silent on his divorce, expressed his heartache in an interview with Amrita Singh recently about the divorce and said, "It was the worst thing in the world for me. I still feel it today. I wish things were different. Some things still haunt me today. I was only 20 then, but today things are very different. 'In 2012, 8 years after separating from Amrita, Saif Ali Khan married Kareena Kapoor, who is 10 years younger. Kareena Kapoor Khan has become the mother of two of Saif's sons and both are very happy in their married life.
Read also:
Someone had to bear the pain of a broken marriage twice, these famous names in this list include Deepika Kakkar.