The corona virus epidemic is spreading again in the country and the capital of Maharashtra. Many celebs from Amitabh Bachchan, Aamir Khan, Ranbir Kapoor, Varun Dhawan to Akshay Kumar have been infected with the corona virus. Shooting of the films has been stopped since reports of all these actors came out positive. Alia Bhatt has also been infected with the Corona virus.
Alia Bhatt is running quarantine at home and following safety rules. In such a situation, her mother Soni Razdan is taking care of her daughter's health and giving fans updates related to her health. Speaking to The Times of India, Soni Razdan said that Alia Bhatt is better now and she is taking care of herself.
Aaliyah does not stress
Soni Razdan said, "I don't want her to get tense at this time, so I don't call her much. I call her once in the morning and ask her how she is and what she is doing. I call her Text. Tell her what she has to eat at the moment. Aaliya was shooting continuously and getting the corona test done daily. So she came to know about the corona immediately. "
Alia left at home
Soni Razdan also shared a poem for daughter Alia Positive Thinking. On the other hand, Alia Bhatt had told through her Instagram story that she has been infected with Corona. Alia said that she has isolated herself and is taking care of everything told by the doctor.
See Alia's Instagram post here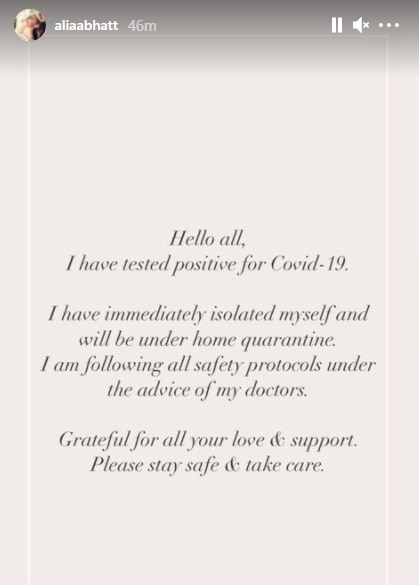 Ranbir is fine with Corona
Let me tell you that Alia Bhatt's boyfriend Ranbir Kapoor was also infected with Corona, after which he had isolated himself and was undergoing treatment at home. Ranbir's report has now come back negative and he has returned to his work.
Also read-
After bungalow superstar Soumitra Chatterjee, now his wife Deepa also died in Kolkata
Video: Rekha's tongue slipped on the question of married man falling madly in love, said this